Services
Clients benefit from our 15 years' experience of coaching individuals and teams from some of the world's largest and most successful companies to some of the youngest and most exciting new businesses.
Our considerable experience can help with:
Some of our clients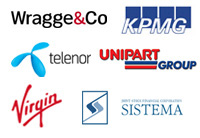 Testimonial
Marlston has been a breath of fresh air in terms of advice. They understood our business and really helped to get our messages across.