One-to-one Coaching
Our director and senior management clients are usually good communicators who want one-to-one presentation coaching because they:
Have an important high-profile presentation or speech to deliver
Have little preparation time
Want to improve or change their presentation style
Will be making an important financial presentation to analysts or investors.
When coaching senior executives we recommend a one-to-one coaching programme delivered in a series of short sessions because:
Shorter sessions are less disruptive and easier to find time for
One-on-one sessions guarantee confidentiality and enable us to be brutally honest
Progress is tailored to match ability
We have the time and flexibility to focus on forthcoming presentations.
Whatever your needs, we can ensure that you deliver a high-class presentation, with confidence – every time. Why not contact us to find out more.
Some of our clients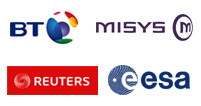 Testimonial
Marlston's coaching has been first class. They have a no-nonsense approach that really got the best out of us.