Presentation Coaching
For us, there is no such thing as an 'off the peg' course; all our training is precisely tailored to your needs to ensure that you meet your objectives and receive value for money.
Our tailored approach usually begins by meeting with clients to:
Assess the current skill levels
Ensure we have a good understanding of the client's business – in particular, how coaching will benefit your business
Set specific goals for the training.
We would then design your personal training programme for your approval.
The first decision our clients need to make, however, is whether they are looking for one-on-one executive training, or a group course.
We have considerable experience at preparing executives from some of the largest and best-known companies around the world. It is this experience that guarantees we can improve skill levels and make a valuable contribution to any presentation.
Please contact us to find out more
Some of our clients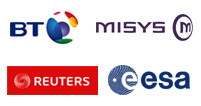 Testimonial
We didn't think we had time for presentation coaching, but Marlston's approach actually helped us to save both time and money.