Group Coaching
We carefully tailor all course agendas to meet the needs of the individuals involved and the group as a whole.
The benefits of our group presentation skills courses include:
Effective teambuilding
Cost-effectiveness
Opportunity for delegates to build a joint/common presentation together.
Different course formats are available to suit the needs of every company. These include:
Two-day courses (8 delegates max.)
Intensive one-day course (6 delegates max.)
Modular courses (three half-day sessions – maximum 6 delegates per session).
Each module contains many opportunities for delegates to practise their new skills with video recording followed by playback and critique.
Some of our clients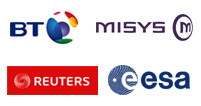 Testimonial
Marlston's coaching has been first class. They have a no-nonsense approach that really got the best out of us.