About
Marlston has been providing Senior Executives with the skills to present compelling presentations, pitches, investor/IPO presentations and media interviews for over 15 years. Our clients range from some of the world's largest and most successful companies to some of the youngest and most exciting new businesses.
We have over 20 years' experience, coaching 1000's of clients
We have worked in 27 countries, throughout 4 continents
We have advised on over 100 IPOs and similar deals with a cumulative value of more than €40Bn
Our clients come from every sector including: Technology, Oil & Gas, Aerospace, Pharmaceutical, Real Estate, and Financial Services.
Working with us
We impart our skills, knowledge and experience in a way that suits you and your objectives; nothing we do is 'off the shelf', we don't teach tricks, and we won't teach you to act.
We are completely honest with you. If your performance is bad, your content is dull or your presentation structure is a mess, we will tell you… then we show you how to put it right.
We won't 'break you down' and then try to build you back up again. It's unnecessary, disruptive, and counter-productive.
What you will get out of it
Our approach will be precisely tailored to your needs, but each client will walk away being able to:
Get their message across in a way that is clear, concise, persuasive and memorable
Get their personality across in a way that is natural, relaxed, confident and professional
Continue to communicate in the same effective way regardless of situation, stress, content or audience.
Please contact us to find out more.
Some of our clients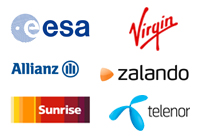 Testimonial
Marlston has been a breath of fresh air in terms of advice. They understood our business and really helped to get our messages across.