Media Training
We know how the media operates and we understand how journalists think and work. Whether you are talking to the FT, being interviewed for a trade magazine, or handling a crisis situation, we can show you how to turn the media spotlight into a positive focus for you and your company.
Our consultants
Training is conducted by our highly experienced journalists, and professional television presenters with a broad knowledge of interview scenarios.
Working with us
Our consultants will work closely with the management team to develop a programme that suits their precise needs and time constraints. All our media training is precisely tailored to your needs.
Select the course that most closely fits your requirements:
Essential Media Skills training 
Dealing with the Press training

Some of our clients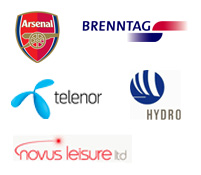 Testimonial
Talking to the media is a big part of my job, and the media training I had from Marlston has made a real difference.