Media Training Courses
Media and Press Training 
Our 'Essential Media Skills' and 'Dealing with the Press' training courses include:
Advice on how to prepare answers to potentially challenging questions
Breathing and relaxation techniques / stress management
The opportunity to see yourself on screen
Guidance on screen image
Valuable feedback on the way in which you convey your answers and deliver your message.
Length of Course: We normally recommend a schedule that allows for approximately:
1-1.5 days training  for Media Training
1/2 -1 day training for Dealing with the Press Training
When appropriate, we use broadcast quality cameras and monitors, and training may be conducted in television or recording studios. Press training will also use video feedback.
Request a sample Essential Media Skills agenda
Request a sample Dealing with the Press Training agenda
Crisis Media Training
Risk management is an area of focus for every well-run business. However, reputational risk is one that is often overlooked. Poor handling of the media in the aftermath of a crisis can prove disastrous. We provide Crisis Media Training for senior management and company spokespersons.
We can teach you to prepare a Crisis Media Action Plan so that you are ready to face the media whatever the crisis
We will help you to identify the risks, plan response strategies and most importantly train you to handle the media firestorm
We use a combination of on-site consultants to train and film you and also off-site experts to help build the role-playing scenario.
Length of Course: Our one-day course will give a core team of 4-6 people the skills and experience they need to face the media in a crisis. Our 2-3 day programmes allow time for action plan preparation, on-site role playing and greater skills penetration
Request a sample Crisis Media Communications Training agenda
We are happy to answer any questions you have, please call us on +44 (0)1488 73355
Some of our clients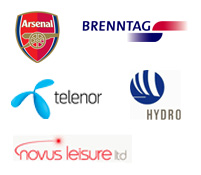 Testimonial
Talking to the media is a big part of my job, and the media training I had from Marlston has made a real difference.